This video is nearly 11 minutes long and I highly recommend that whoever you are and what job role you have that you stop what you're doing and watch this.
It contains so many nubs of brilliance I could probably write a whole book about it! At the same time, there's a few points to note where you don't want to take certain aspects to extremes either, see below once you've watched the video for some extra tips…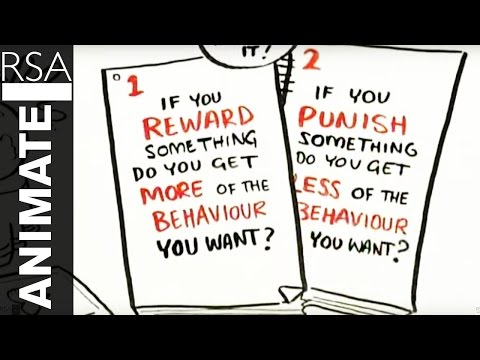 Engagement
Being self-directed and autonomous is not the same as the line manager ignoring staff and expecting them to just get on with things with no interaction at all. Employees still need to know what is expected of them and how they can measure how successful they are. Depending on what kind of strengths individuals have they may require more or less interaction with their manager. For some autonomy will be about being creative and innovative from the get go, for others it's simply being allowed to follow the processes and systems without being micromanaged.
Reward
Remember that as soon as you are dealing with the type of role and employee where they are really using their brains (and often hearts and souls too!) that the key to reward to so speak with individuals to assess what do they want… The key to the success of these experiments seems to have been that people got out of the way and let and/or facilitated the participants get on with the task. There may be other variables in play when dealing with 'business as usual' with large bonuses at stake.
My advice? Be open and honest and above all fair. Don't ask your staff to do something and then prevent them from doing it because of their line manager not being on board, conflicting priorities or other obstacles getting in the way.
Mastery and Purpose
As I keep saying… "Business IS Peronal".
If you really want to increase performance through motivated staff then help them to discover what they're really good and then let then do it. Believe me – the results will probably surprise you! Let me define strength. It's something that is a talent + skill/knowledge + appetite. That means that no matter how competent a person is at something, it won't be a strength if they don't enjoy doing it… Stop and think about that. People can get burnt out doing something that they're wonderfully good at but that leaves their soul drying out like the Sahara Desert.
Often people spend years looking to discover their purpose. I say discover your strengths first and when you put that together with what you love to do, in the environment you love to do it then you may well just hit the jackpot!
The problem with this in many organisations is that job role and competency and appraisals systems have been designed more with the factory mentality instead of the typical strengths and personality types that tend to go together. Hence you get a lot of people being great at 30-50% of their job role and constantly trying to catch up on the rest. Think about it…
Change
You may look at this video and read these comments and think what's the point. STOP! Amazing things can happen when approached in the right way. You're maybe stuck in the middle of it thinking too many things have to change and you wouldn't even know where to start. Perhaps you need an outside perspective?
Gandhi said, "Be the change you wish to see".
Everything starts with ourselves, first with the germ of an idea and then action fanning the flames… Take action now and get in touch.
I'd be happy to help with a brief chat to help you discover the best direction at this time….